I don't know how many of you actually keep up to date with award shows, The Oscars in particular. To be completely honest with you, I didn't watch them this year. What really fascinated me was the coverage it received via social media.
The Academy of Motion Picture Arts and Sciences extended the usual use of social media and they encouraged celebrities to tweet during the event. They brought out a feature where the stars could take photos of themselves behind the scenes and post them online instantly via The Academy's official Twitter account. This is different to what fans are familiar with, as the press and photographers are obviously not allowed in that room. Secondly – the video application was introduced to allow fans to replay clips of the ceremony just after they happened and share them via social networks, such as Twitter and Facebook.
If you were able to visit www.oscar.com, you would have been presented with additional behind the scenes footage, by some backstage cameras and not tho forget a live blog. All of the above are examples of how an organisation can help create hype within social media.
"We're not doing social media to reach out to young kids," said the academy's digital media director, Josh Spector. "We're doing it to connect with all Oscar fans."
It could be concluded that yes, you were able to receive huge insight to the Oscars. The best social media account to follow on Twitter was obviously 
@TheAcademy
. You would be able to see instant updates about the winners in each category and it made it very easy to follow the relevant stars.
Furthermore, there still were other ways to follow the Oscars on social media. Photos of behind the scenes were posted on Tumblr and Instagram by the stars themselves. They also Tweeted about their experiences and captured photos on the way to the event or photos from the red carpet.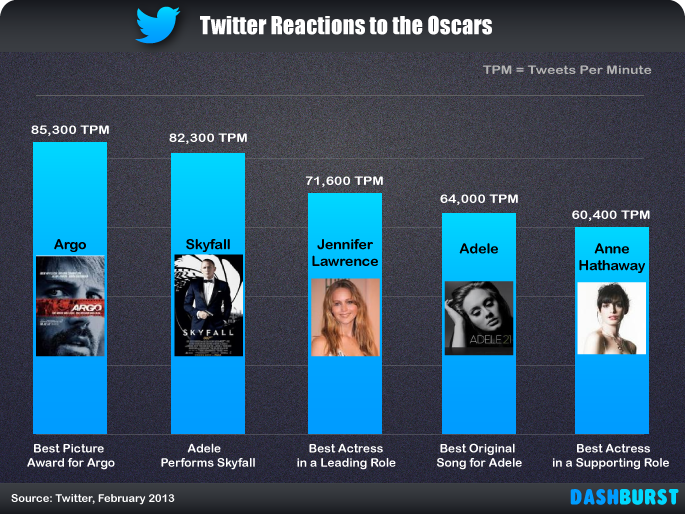 The ceremony on Sunday produced around 3.8 million comments via Twitter, Facebook and other social media sites.
So what can you learn from the Oscars? You can take some ideas when wanting to recreate your own marketing – keeping it audience-reach proportional of course – so has the handling of the Academy Awards' social media accounts given you some inspiration for how to promote your business?
And finally – on the topic of massive celebrations. We have one of our own approaching in April; our 6th Birthday. We are very excited this year, with our constant increase of product range and customers that we want you to celebrate with us. We will be having our very own competition which will involve not too much effort, lots of fun AND CAKE! We will keep you informed closer to the time.
In the meantime, keep celebrating!